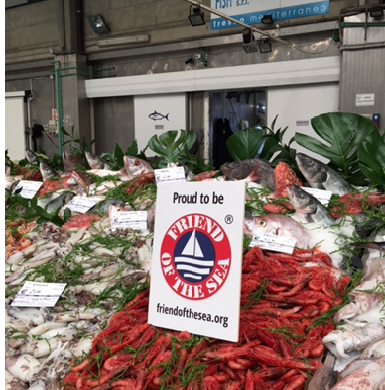 Milan, 24 October 2017. Milan-based seafood company Mazara fish recently obtained Friend of the Sea's certification for the giant red shrimp. Aristaeomorpha foliacea is fished in FAO fishing area 37 – South of Italy – and has been found compliant with Friend of the Sea's strict sustainability requirements for seafood.
Mazara Fish was founded more than 20 years ago by Salvatore Margiotta and named after its place of origin, Mazara del Vallo, a town in north west Sicily near Trapani whose port gives shelter to the largest fishing fleet in Italy. Today the company owns a warehouse at the Mercato Ittico – the largest fish market in South Europe – and supplies high-end restaurants and international hotel chains such as Armani and the Mandarin Hotel in Milan.
Lino Baccarino, a representative of Mazara Fish, explains the reason why, after years of activity, the company has decided to seek the certification for the giant red shrimp, considered their crown jewel:
"We noticed that consumer's demand for traceability of seafood is constantly increasing. At the same time, top catering companies are developing multiple projects to improve the quality of their service. By obtaining this prestigiuos certification of sustainability, we embrace Friend of the Sea's mission to respect the marine environment and commit to extend the certification to our full list of high quality products".
To highlight the importance of the acquisition of Mazara Fish as a certified company, Paolo Bray, Director of Friend of the Sea, declares:
"The recent choice of Mazara Fish shows how a structured collaboration among all parties of the production process is key to influence the final consumer and achieve environmental sustainability's main goal".
***
Contacts
Debora Malaponti, Public and Media Relations Officer
Tel. + 39 02 87075169
Email address: media@friendofthesea.org
Website: www.friendofthesea.org